So if you've never visited a YouTube video you may not know that the comments sections can be awful, awful, AWFUL cesspools of "discussion" (did I mention that it was awful?).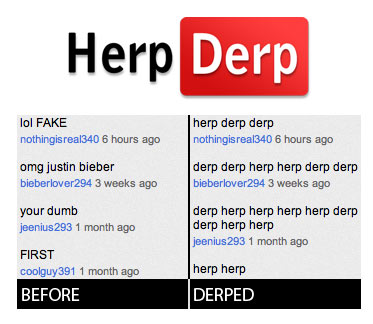 That's why Tanner Stokes' browser extension Herp Derp is so beautifully simple.  It automatically substitutes all of the comments into The Internet's darling "Herp Derp" on ANY browser.  There is one downside though…
You do miss out on the 1% of millions (AND MILLIONS!) of comments that are sheer brilliance (though there is an option to read original comments).
(via BoingBoing)